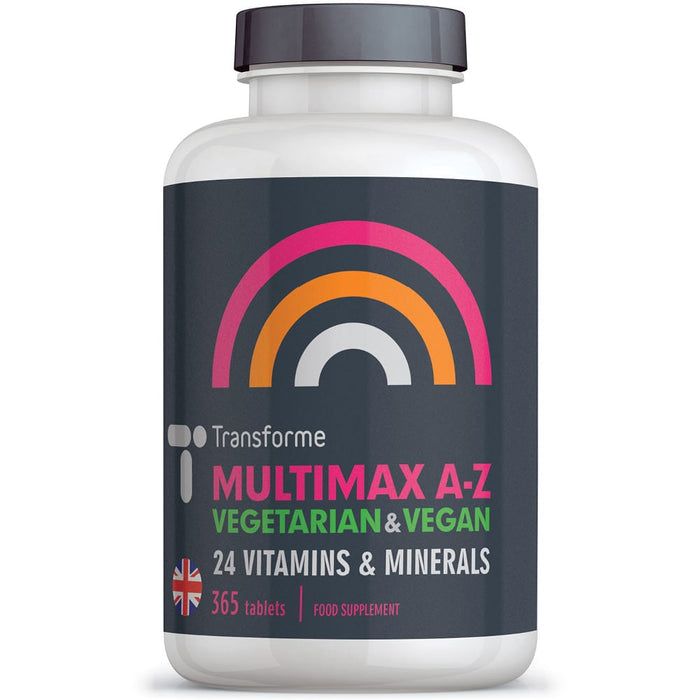 Multivitamins & Minerals, Multimax A-Z Vitamin Support, One A Day Vegetarian & Vegan Tablets
Transforme Multimax A-Z  24 Vitamins and Minerals, A broad spectrum food supplement, providing your full daily requirement of 21 vitamins and minerals and top ups of 3 others in a 1 per day tablet, plus the tablets are coated so they're easy to swallow.

Sizes: 180 and 365 tablets.

WHY BUY YOUR MULTI VITAMINS AND MINERALS FROM TRANSFORME?
YOU CAN BUY WITH CONFIDENCE - Transforme has been supplying premium quality supplements for around 20 years and we want you to be 100% happy with Multivitamin tablets purchase. So if you're not satisfied you get your money back, that's guaranteed.
QUALITY VITAMINS AND MINERALS COVERAGE - At Transforme we aim to provide you with high quality supplements at fair prices - to this end we supply our Multi Vitamin supplement in 180 and 360 tablet bottles, giving you the option of up to a full year's supply, at the 1 tablet per day serving.
SEALED & DELIVERED - Transforme food supplements are delivered to your door or place of collection in heat-sealed labelled bottles for freshness and protection of the capsules or tablets.
NUTRITIONAL INFORMATION 
One tablet contains: - (% RDA) 
Vitamin A RE - 800mcg (100%) NRV
Thiamine (B1) - 1.1mg (100%) 
Riboflavin (B2) - 1.4mg (100%) 
Niacin (B3) - 16mg (100%) 
Pantothenic Acid (B5) - 6mg (100%) 
Vitamin B6 - 1.4mg (100%) 
Vitamin B12 - 2.5mcg (100%) 
Folic Acid - 200mcg (100%) 
Biotin (B7) - 50mcg (100%) 
Vitamin C - 80mg (100%) 
Vitamin D2 - 5mcg (100%) 
Vitamin E (TE) - 12mg (100%) 
Vitamin K1 - 75mcg (100%) 
Calcium - 267mg (33%) 
Chromium - 40mcg (100%) 
Copper - 1mg (100%) 
Iodine - 150mcg (100%) 
Iron - 14mg (100%) 
Magnesium - 94mg (25%) 
Manganese - 2mg (100%) 
Molybdenum - 50mcg (100%) 
Selenium - 55mcg (100%) 
Zinc - 10mg (100%) 
Plus: 0.4mg Beta Carotene
Directions: For adults. Take one tablet daily, or as directed by a health care professional.
Ingredients: Calcium carbonate, Microcrystalline Cellulose, Magnesium Oxide, Ascorbic Acid, Ferrous Fumarate, Hydroxypropylmethylcellulose, Vitamin E synth 50% spray dried (DL-alpha tocopherol acetate), Vitamin B3 as Nicotinamide, Zinc Oxide, Magnesium Stearate, Silicon Dioxide, Vitamin A acetate 325,000 iu/g, Calcium Pantothenate, Manganese Sulphate, Sodium Selenite, Titanium Dioxide, Beta Carotene 10% (maize starch, beta carotene), Copper Sulphate, Gycerine, Vitamin B12 0.1% (Cyanocobalamin, Dicalcium phosphate) ,Vitamin D2 0.25% (ergocalciferol), Caramel, Pyridoxine Hydrochloride, Vitamin K1, Thiamine Hydrochloride, Riboflavin, Chromium Picolinate, Folic Acid, Carnauba Wax, Potassium Iodide, Sodium Molybdate, Biotin (Pure)
Please remember: Whilst every effort is made to ensure that the information on our product pages is up to date, please make sure to always read the labels, warnings, and directions provided on or with the product before using or consuming it.