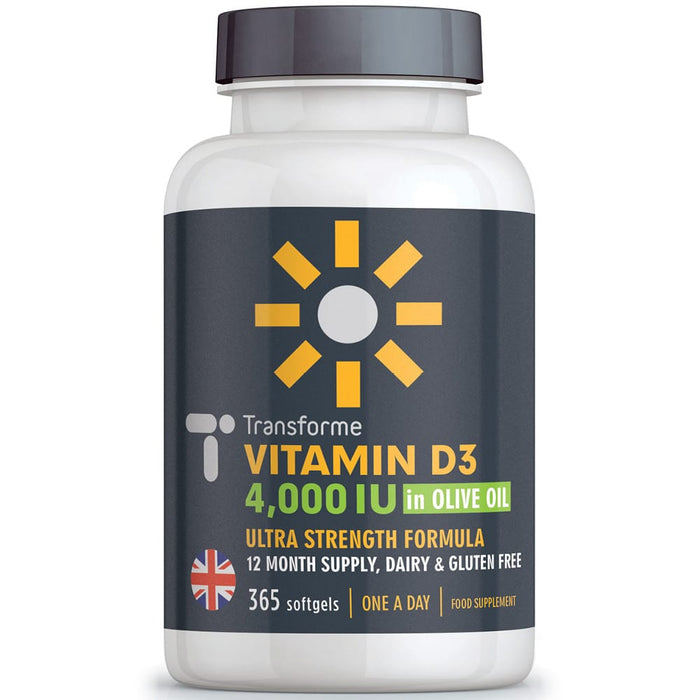 Vitamin D3 4000 iu Cholecalciferol in Olive Oil Capsules - Vitamin D Supplements for Bones & Immune System
Transforme 'sunshine in a bottle', Vitamin D3 4000IU in an Olive Oil suspension in softgel capsules.
Vitamin D is essential for several functions within our bodies, Vitamin D3 benefits our immune system, and it supports calcium & phosphorus absorption and utilisation, bones, muscle function and teeth.
We get some from our diet, but much is synthesised by our bodies from exposure of our skin to direct sunlight.
Many of us have low Vitamin D levels - thought to be as many as 1 in 5 in the UK - particularly during the shorter days of autumn and winter when levels of sunshine are reduced.
Generally between October and early March UK sunlight does not contain enough of the ultraviolet B (UVB) rays – the ones we need to make Vitamin D.
Transforme's Vitamin D supplements are a convenient and easy way to boost Vitamin D levels.
This formulation is designed as Vitamin D 4000iu in Olive Oil liquid within softgel capsules to give highest absorption and maximum benefit, superior to tablets and more convenient than drops.

WHY BUY YOUR VITAMIN D3 SUPPLEMENTS FROM TRANSFORME?

YOU CAN BUY VITAMIN D3 CAPSULES WITH CONFIDENCE - Transforme has been supplying premium quality supplements for around 20 years and we want you to be 100% happy with any Vitamin D supplement purchase. So if you're not satisfied you get your money back, that's guaranteed.

QUALITY VITAMIN D3 4000 IU COVERAGE - At Transforme we aim to provide you with high quality supplements at fair prices – to this end we supply our 4000 iu
Vitamin D in Olive Oil in 365 softgel bottles, giving you a full year supply.

SEALED & DELIVERED - Transforme food supplements are delivered to your door or place of collection in a heat-sealed labelled bottle for freshness and protection of the capsules or tablets.

NUTRITIONAL INFORMATION
One softgel capsules contains:
Vitamin D3 (as cholecalciferol) - 4000iu

Directions: For adults. Take one softgel capsule daily, or as directed by a healthcare professional.

Ingredients: Olive Oil, Vitamin D3 (cholecalciferol) 4000iu. Capsule: Gelatin (from beef), glycerol, water.

Please remember: Whilst every effort is made to ensure that the information on our product pages is up to date, please make sure to always read the labels, warnings, and directions provided on or with the product before using or consuming it.