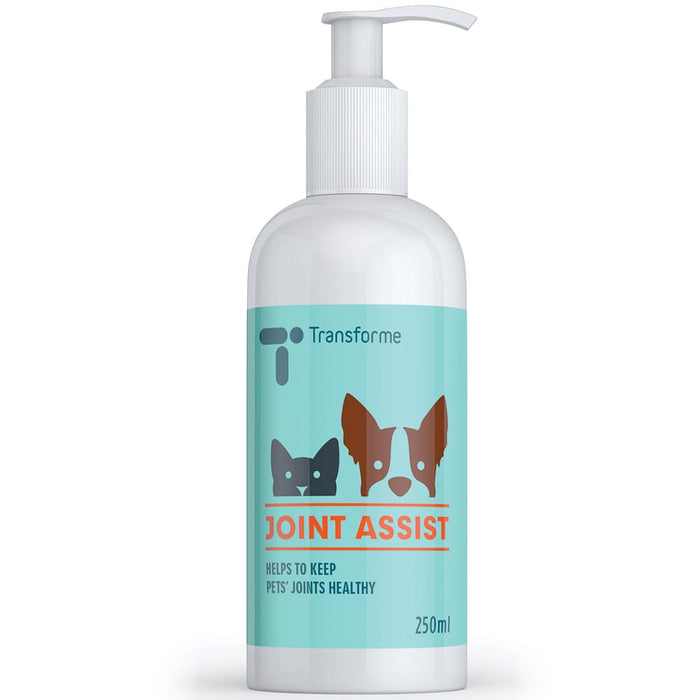 Joint Assist Pet Joint Supplement, Liquid Glucosamine for Dogs & Cats with a Tasty Beef Flavour
Transforme Joint Assist for Cats and Dogs, an advanced joint aid formulation with Glucosamine Sulphate 2KCl, Glucosamine Hydrochloride, Chondroitin Sulphate, MSM, Vitamins A, C and E with Cod Liver Oil, in liquid form for highest, most effective absorption.
Pump action bottle, quick to use - simply spray required amount, shown on label, on to food and mix in.
Once opened please store in the fridge.
Transforme has been supplying Joint Assist for several years now and we have many happy pet owner customers who let us know how their pets get on, feedback we're always pleased to hear!
Sizes: 1-bottle and 4-bottle packs.
WHY BUY JOINT ASSIST, LIQUID JOINT CARE FOR DOGS AND CATS, FROM TRANSFORME?
YOU CAN BUY WITH CONFIDENCE - We have been supplying premium quality supplements, for people and pets, for around 20 years and we want you to be 100% happy with any purchase from us. So if you're not satisfied you get your money back, that's guaranteed.
MAXIMUM POTENCY: In addition to two forms of Glucosamine, as a key secondary ingredient, we utilise premium 90% purity sustainably sourced Marine Chondroitin, rather than the cheaper and less effective 20% grade found in some other products.
LONGSTANDING JOINT SUPPORT FOR DOGS & CATS - Joint Assist is among our best selling and most well established products with many happy customers, and pets!
QUALITY LIQUID GLUCOSAMINE COVERAGE - At Transforme we aim to provide you with high quality supplements to suit your needs at fair prices. To this end we offer Joint Assist in single and four-bottle packs.
PUMP ACTION - Our potent liquid formulation comes in an easy-to-use pump action bottle, making it easy to dispense for your pet.
NUTRITIONAL INFORMATION 
A 6 pump Joint Assist serving provides:
1,500mg of Glucosamine 
of which 
750mg of Glucosamine Sulphate 2KCl
750mg of Glucosamine HCl 
plus Chondroitin, MSM, Omega 3, Omega 6, Vitamins A, C & E.
Directions: Shake the bottle after taking it out of the fridge. Add daily to pet food using chart on bottle for dosage. Mix well into their food.
Keep away from children. Do not use if the seal is open on delivery.
Ingredients: Water, Glucosamine Hydrochloride, Glucosamine Sulphate 2KCl, Fructose, Polysorbate, MSM, Cod Liver Oil, Beef Flavour, Bromelain Extract, Xantham Gum, Vitamin E (D-Alpha Tocopherol), Chondroitin Sulphate, Vitamin C, Natural Caramel, Potassium Sorbate, Sodium Benzoate, Vitamin A.
Cautions: Please consult a veterinary professional prior to administering any pet supplements. 
Whilst every effort is made to ensure that the information on our product pages is up to date, please make sure to always read the labels, warnings, and directions provided on or with the product before using or it.