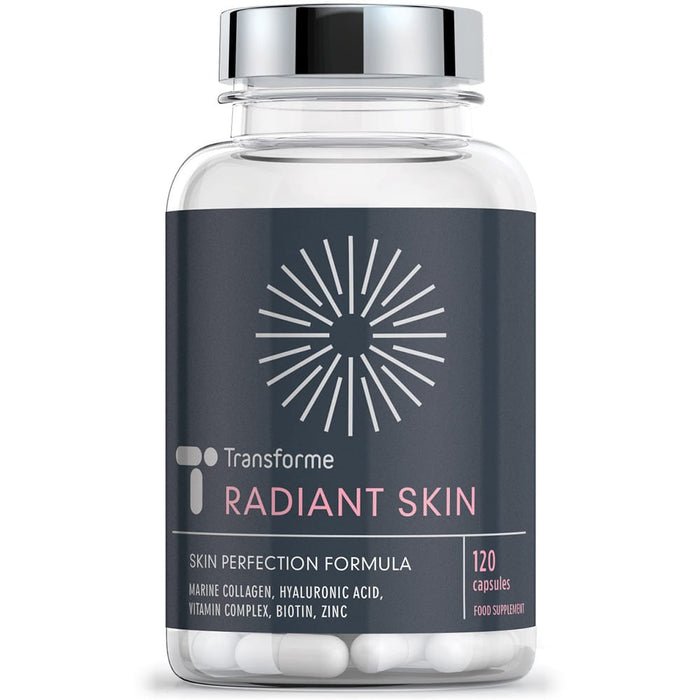 Marine Collagen and Hyaluronic Acid, with Biotin, Mineral Zinc and Vitamins B6, B12 & C, Radiant Skin by Transforme
Transforme Radiant Skin, hydrolysed Marine Collagen Peptides and Hyaluronic Acid, Biotin (B7), Mineral Zinc, Copper, Vitamins B6, B12 & C.
A high potency complex, each 2 capsule daily serving provides a highly absorbable 1000mg hydrolyzed Marine Collagen Peptides and premium Hyaluronic Acid (1M Dalton fermented grade) plus your full daily NRV (Nutrient Reference Value) of Biotin (Vit B7), Copper, Vitamin B6, Vitamin B12, Vitamin C, and Zinc, contributing to maintenance of skin, hair, nails, bones, cartilage and immune system.
Part of the Transforme Premium Range and a natural 'clean label' product - our capsules contain no synthetic fillers or bulking agents, only gluten free natural rice extract is added. No Magnesium Stearate.

Sizes: 120 capsules, or 240 capsules (two bottle pack).

WHY BUY YOUR RADIANT SKIN FORMULA FROM TRANSFORME?

YOU CAN BUY WITH CONFIDENCE - Transforme has been supplying premium quality supplements for around 20 years and we want you to be 100% happy with any purchase from us. So if you're not satisfied you get your money back, that's guaranteed.

QUALITY COVERAGE - At Transforme we aim to provide you with high quality supplements at fair prices, we supply our Hyaluronic Acid supplement in a 120 capsule bottle, providing up to 8 weeks coverage at the two capsule per day serving, or 4 months with the two bottle pack.

SEALED & DELIVERED -Transforme food supplements are delivered to your door or place of collection in a heat-sealed labelled bottle for freshness and protection of the capsules or tablets.

NUTRITIONAL INFORMATION 
Each capsule contains:
Marine Collagen - 500mg
Hyaluronic Acid - 10mg
Plus: (%NRV)
Vitamin C - 40mg (50%)
Zinc - 5mg (50%)
Vitamin B6 - 0.7mg (50%)
Biotin (B7) - 0.5mg (1000%)
Copper - 0.5mg (50%)
Vitamin B12 - 6mcg (250%)

Directions: For adults. Take three capsules at bedtime initially, reducing to two capsules, or as directed by a healthcare professional.

Ingredients: Marine Collagen (Fish), Vitamin C (Ascorbic Acid Powder), Zinc Gluconate, Hyaluronic Acid (1M Dalton fermented grade), Natural Rice Extract, Copper Sulphate, Vitamin B6 (Pyridoxine HCl), Biotin, Vitamin B12 (Cyanocobalamin). Capsule shell: HPMC. (For allergens - see ingredients in bold)

Please remember: Whilst every effort is made to ensure that the information on our product pages is up to date, please make sure to always read the labels, warnings, and directions provided on or with the product before using or consuming it.