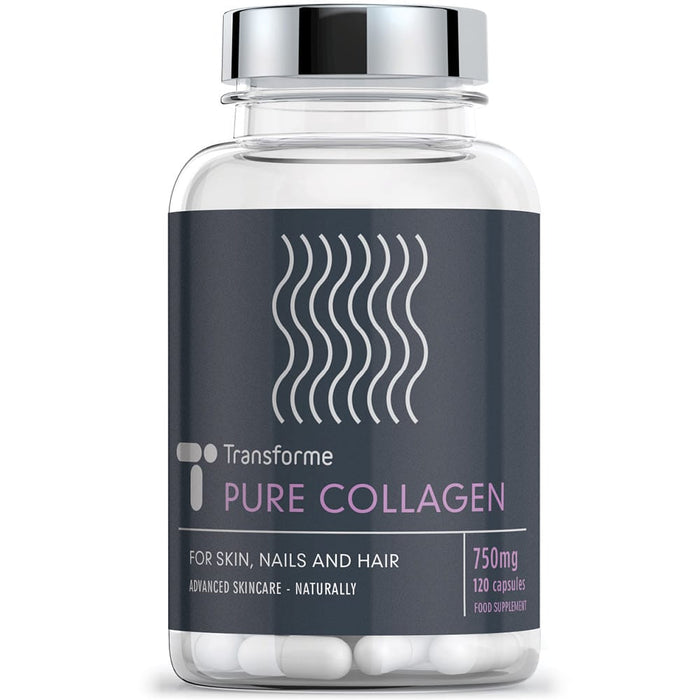 Pure Collagen Peptides 750mg High Absorption Hydrolized Collagen Capsules
Collagen has a huge role within the body, vitally important in the structure of bones, tendons, skin, joint cartilage, ligaments and tendinous muscles.
As we age, from around 30, the production of collagen within the body reduces. Our skin loses firmness, becomes dryer and thinner, our bones start to become thinner as bone loss starts to exceed bone formation.
Lower collagen levels can lead to reduction of cartilage, and joint pain. Ageing can also lead to a loss of muscle mass and strength.
Collagen peptides are a cold soluble, smaller form of collagen, reduced in size through hydrolysis – also known as hydrolyzed collagen.
Transforme Pure Collagen is a high potency 750mg of Collagen, with up to 1500mg suggested serving, in easy to swallow capsules for efficient absorption, superior to tablets or pills. Part of the Transforme Premium range.

WHY BUY YOUR COLLAGEN PEPTIDES FROM TRANSFORME?

YOU CAN BUY COLLAGEN SUPPLEMENTS WITH CONFIDENCE - We have been supplying premium quality supplements for around 20 years and we want you to be 100% happy with your Collagen Peptides purchase. So if you're not satisfied you get your money back, that's guaranteed.
QUALITY COLLAGEN PEPTIDES COVERAGE - At Transforme we aim to provide you with high quality supplements at fair prices, we supply our Pure Collagen supplement in a 120 capsule bottle, providing up to 4 months coverage at the one 750mg capsule per day serving.
SEALED & DELIVERED -Transforme food supplements are delivered to your door or place of collection in heat-sealed labelled bottles for freshness and protection of the capsules or tablets.
NUTRITIONAL INFORMATION 
Each 750mg capsule contains: 
Peptan Collagen Peptides - 750mg
Directions: For adults. Take one to two capsules daily, or as directed by a healthcare professional.
Ingredients: Peptan Collagen, Magnesium Stearate. Capsule shell: Gelatine (from beef). (For allergens - see ingredients in bold)
Please remember: Whilst every effort is made to ensure that the information on our product pages is up to date, please make sure to always read the labels, warnings, and directions provided on or with the product before using or consuming it.