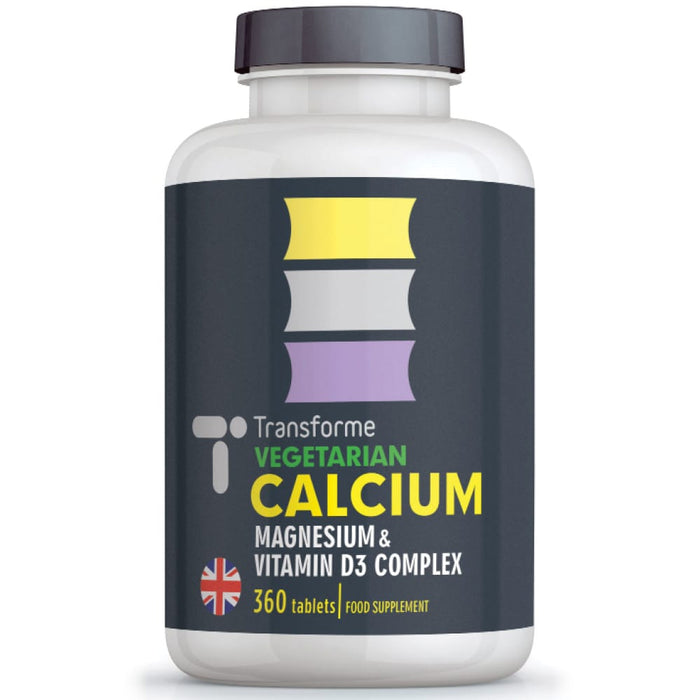 Calcium Magnesium & Vitamin D3 Complex Vegetarian Tablets for Bones, Teeth and Muscle Function
Calcium, Magnesium and Vitamin D3 Vegetarian tablets, a powerful formulation which provides high levels of Calcium, Magnesium and Vitamin D3, one three tablet serving covers your full daily requirement of all three nutrients.
Calcium contributes to normal energy yielding metabolism, to the maintenance of normal bones and teeth and to normal muscle function.
Magnesium contributes to a reduction of tiredness and fatigue, to maintenance of normal bones and teeth, and to normal muscle function.
Vitamin D3 contributes to the maintenance of normal muscle function, to maintenance of normal bones and teeth, and to the normal function of the immune system.

Size: 360 tablets.

WHY BUY YOUR CALCIUM MAGNESIUM & VITAMIN D FROM TRANSFORME?

YOU CAN BUY WITH CONFIDENCE - We have been supplying premium quality supplements for around 20 years and we want you to be 100% happy with any purchase from us. So if you're not satisfied you get your money back, that's guaranteed.

QUALITY COVERAGE - At Transforme we aim to provide you with high quality supplements to suit your needs at fair prices, and our 360 capsule bottle gives 4 months' supply at the maximum three tablets per day serving.

SEALED & DELIVERED - Transforme food supplements are delivered to your door or place of collection in a heat-sealed labelled bottle for freshness and protection of the capsules or tablets.

NUTRITIONAL INFORMATION
One three tablet serving contains - (%NRV)
Calcium - 1000mg - (125%)
Magnesium - 500mg - (133%)
Vitamin D3 - 10μg (400IU) - (200%)

Directions: For adults, take one to three tablets daily as a food supplement or as directed by a healthcare professional.

Ingredients: Calcium Carbonate, Magnesium Oxide, Microcrystalline Cellulose, Croscarmellose Sodium, Magnesium Stearate, Cholecalciferol. Coating: Titanium Dioxide, Hypromellose, Polyvinyl Alcohol, Polyethylene Glycol, Polydextrose, Talc.
Please remember: Whilst every effort is made to ensure that the information on our product pages is up to date, please make sure to always read the labels, warnings, and directions provided on or with the product before using or consuming it.