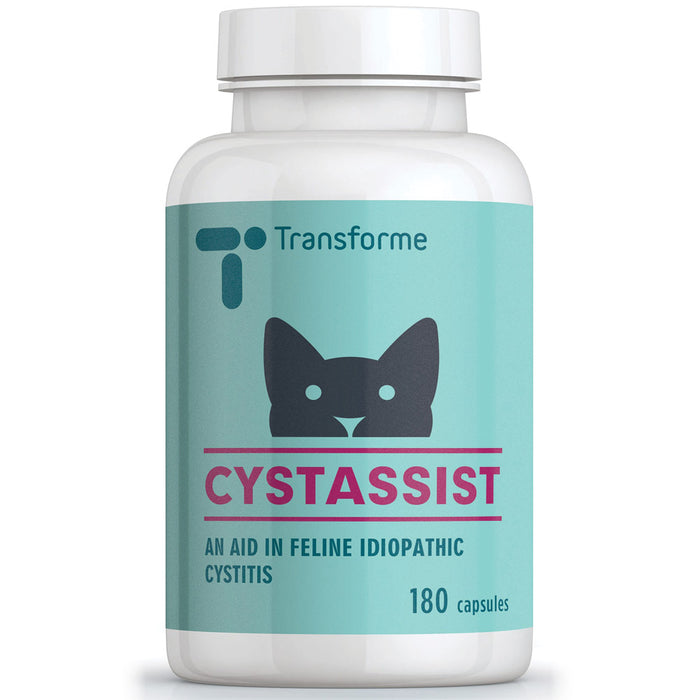 Cystassist Cat Cystitis Care, Feline Urinary Tract Support Supplement for Cats of All Ages
Each Cystassist Cat Cystitis care capsule contains N. Acetyl D Glucosamine in a formula designed to give effective support the bladder lining, a cat's defence against urinary tract problems including Feline Idiopathic Cystitis.
It's easy to administer Cystassist to your furry friend, you can feed it as a capsule or open the capsule and sprinkle on to food and mix in. This normally does the trick.
Cystassist is a well established part of the Transforme range and we have gained many happy pet owners as customers over the years.
The normal serving is one capsule per day while required, or one capsule every second day where a maintenance regime against UTIs is wanted.

Sizes: 45, 90 and 180 capsules.
WHY BUY CYSTASSIST CAT CYSTITIS FOOD SUPPORT FROM TRANSFORME?
YOU CAN BUY CAT URINARY TRACT SUPPORT WITH CONFIDENCE - We have been supplying premium quality supplements, for people and pets, for around 20 years and we want you to be 100% happy with any purchase from us. If you're not satisfied you get your money back, that's guaranteed.
LONGSTANDING FELINE CYSTITIS CARE - Cystassist is one of our best selling and most well established products with many happy pet owners as customers.
QUALITY CAT CYSTITIS COVERAGE - At Transforme we aim to provide you with high quality supplements to suit your needs at fair prices. We offer Cystassist in 45, 90 and 180 capsule bottles.
SEALED & DELIVERED - Transforme food supplements are delivered to your door or place of collection in a heat-sealed labelled bottle for freshness and protection of the capsules or tablets.
NUTRITIONAL INFORMATION 
Our Cystassist capsule contains: 
N-acetyl-glucosamine - 125mg
Directions: 1 capsule per 5kg bodyweight, which can be given once or twice daily as required.
Capsules may be given whole or broken open and mixed with food. If long term management is needed, this can be reduced to 1 capsule every other day.
Store in a cool, dry place. Keep away from children. Do not use if the seal is open on delivery.
Ingredients: Acetyl D-Glucosamine (NAG)125mg, Cellulose. Capsule shell: Gelatine, Magnesium Stearate Powder BP, Silica.
Cautions: Please consult a veterinary professional prior to administering any feline supplements. 
Whilst every effort is made to ensure that the information on our product pages is up to date, please make sure to always read the labels, warnings, and directions provided on or with the product before using or it.